Elite of Lexus Award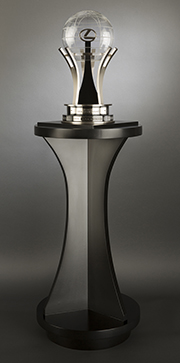 The Elite of Lexus program continues to reward dealerships for living up to standards of excellence. Each dealership achieving Elite status in 2019 will receive the Elite trophy or an updated year distinction plate for its existing trophy.
PARTICIPANTS
All eligible Lexus Dealer Principals, Responsible Executives and designated certified associates may earn recognition based upon meeting all dealership program requirements and earning Area General Manager approval. Sales Department teams and Service Department teams (Parts & Service) may be recognized independently in those instances when the dealership does not win the overall award but the department team meets or exceeds Dealership Elite Criteria, as detailed below, and earns Area General Manager approval. The departmental performances of a primary dealership and its companion dealership are not combined.
DEALERSHIP ELITE CRITERIA
A dealership must achieve all Dealership Elite Criteria, as detailed below, and be approved by both its Area General Manager and Lexus to be recognized as a winning dealership. If a dealership also has a companion dealership, primary and companion dealerships may earn Elite of Lexus status separately (performance is not combined).
SALES TEAM (NEW & L/CERTIFIED)
Overall Satisfaction ("OSAT") New Vehicle Sales Survey Elite Standard** 95.0
New Vehicle 12-Month Non-Fleet Sales Qualifier* 95.0%
L/Certified 12-Month Sales Qualifier* 95.0%
Sales Retention (based on individual dealership performance):
- Above Benchmark Score Benchmark OR
- Year-Over-Year Improvement Score Prior Year
SERVICE TEAM (PARTS & SERVICE)
Overall Satisfaction ("OSAT") Service Survey Elite Standard** 93.0
Customer Pay Repair Order 12-Month Volume Qualifier* 95.0%
Dedicated Lexus Diagnostic Specialist (DS) Qualifier
Participation in Lexus Customer Convenience System (LCCS) program
Service Retention:
Above Overall National Benchmark 80% OR
- Above Area Service Component Criteria Benchmark Varies by Area
DEALERSHIP FACILITY CRITERIA
Dealership facility must currently meet or be on track to achieve 2022 Vision USA program requirements.
AREA APPROVAL
Dealership must obtain Area General Manager nomination and meet key Lexus operational standards